0 items in the shopping cart
---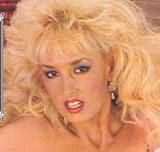 Busty Brittany O'Neil-p
More commonly known as just Busty Brittany - please see listings under that name.
---
---
Product ID: scor1998-04d
Sana Fey has FC + 7 pgs, Busty Brittany O'Neil, Leah and Marie each have 7 pgs. Penelope Pumpkins has 10 pgs, Asian model Kellei G. has 6 pgs (she was also in 6/96) and Colt 45 has 5 pgs. Candy Andes & boyfriend have 7 pgs. Have 2 copies, both very bright & glossy. One has minor wrinkle in upper right corner, a few stresses along spine. Other has nick at bottom of spine and a few stresses along spine. Same price - your choice.
Read More...
---