0 items in the shopping cart
---
Karine Gambier
European porn star late 70s - early 80s.
---
---
Joanne Latham has first of many FCs + 4 pgs as 'Dolly Partner'. San Diego Annie aka Annie Ample has 5 pgs, Karine Gambier has 7 pgs inc CF as 'Rikki'. Shirley MacLaine & Louisa Moritz each have 3 pgs, Farrah Fawcett has 2 pgs. Plus Candy, Tina & Helene.
Read More...
---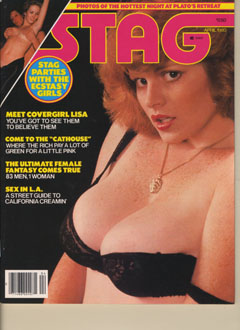 Product ID: stag1980-04b
v31 #4 has Lisa de Leeuw FC + big 9 pg pictorial inc CF. Karine Gambier has 5 pgs as 'Ingrid'. Kandi Barbour begins monthly 'Letters' column as Nora - has 4 small pics. Plus 2 pgs on Tara Alexander (83 man gang bang at Plato's), a features on the Premiere Party for the movie 'Ecstasy Girls' and an Interview w/ pics of Madam Susan Kenton. Articles on getting laid in LA, traffic radar and copy who kill. Super sharp, barely touched - FINE+
Read More...
---