0 items in the shopping cart
---
Linda Kerridge
Popular model from the 70s and 80s famous as a Marilyn Monroe Look-a-Like.
---
---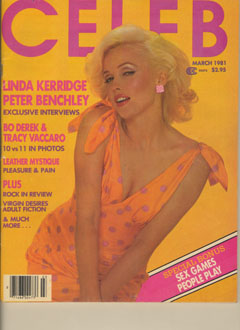 v2 #3 - Features Linda Kerridge (Marilyn Monroe look-a-like and star of the movie 'Fade to Black') on FC + 4 pgs of pics and Interview. Jennifer has 8 pgs inc CF and Lana has 5 pgs and a pair of girlfriends share 10 pgs - pretty sure 1 is Lenora Bruce). Bo Derek has 4 pgs, Tracy Vacarro (Playboy Playmate 10/83) has 2 pgs and Mike Ranger has 10 pgs w/ 2 girls. Also Interviews w/ author Peter Benchley (Jaws) and Submissive Sheila. Second copy has been read a bit, minor signs of wear - VG/VG+
Read More...
---
Covergirl and Marilyn Monroe look-a-like Linda Kerridge also has 9 pgs. Jolene has 10 pgs inc CF. Jennifer has 6 pgs and Velvet has 5 pgs. Interview w/ General George Keegan. Articles about the logistics of the Olympics, Europe, conspiracy freak Mae Brussel and punk rock. Clive Collins has a full pg cartoon.
Read More...
---