0 items in the shopping cart
---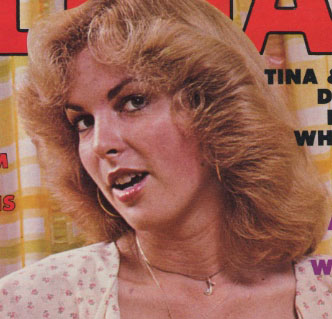 Carrie Lambert-p
Busty blonde appeared in a number of mags from about 1979 - 1981. Often billed under a single name or anonymously, this is another case where the name I've chosen may not be accurate but is the only thing resembling a real name that I have found. She was Carrie Lambert in FLING 9/80 & 1/81 and CF in CAPER 12/79 as just Carrie. She returned as Covergirl of CAPER 5/80 as Karen and was both Covergirl & CF of CLIMAX 9/80 also as Karen. She was Wendy in GENT 8/79 and the anonymous Covergirl of SWINGLE 9/79.
---
Product ID: capr1979-12b
v21 #6 - Lana Cole has FC + 4 pgs as 'Pam'. Linda Gordon & Keli Stewart each have 3 pgs. Carrie Lambert has 4 pgs inc CF (is FC of 5/80 as Karen), Lori Groneman has 3 pgs as 'Lori' - WOW!several more you'll recognize and the usual one-name wonders. Super nice, Fine+
Read More...
---
Product ID: clim1980-09b
v26 #9 - Busty blonde Carrie Lambert has FC + 8 pgs inc CF as 'Karen'. Candy Samples has 7 pgs, Keli Stewart has 5 pgs. Candy Clark shares 5 pgs w/ a girlfriend and Linda Linear & Tina Friedman share 4 pgs. Black model Reva has 4 pgs (she was Winona Waters in GENT 6/79 & 7/82). Barely touched - FINE+
Read More...
---
v23 #5 (Issue 110) - Cindy Stewart (aka Vicky Harris) has FC. Mary Waters has 5 exceptional pages as 'Dani Fabroso', Jennifer Eccles has 3 pgs as 'Gillian Barbera' and Carrie Lambert also has 3 pgs. Mag contains a 4 pg detachable 1981 Flingirl Calendar w/ 1 pg each Nika Movenka, Katrina Ferguson, Jenene Swenson and Marie La Farge - each of them also has a separate 4 pg feature in addition to the calendar. Plus 2 pgs each of Barbara 'Babsy' Kockritz, Denise Deland and Geri Mandel. An article about 'Agent Orange' and Spain Rodriguez has a 1 pg illo. FINE++ copy is NEW!, unread - just gorgeous! FINE copy is bright & glossy, a couple of very minor spine stresses and TINY bump at top of spine.
Read More...
---