0 items in the shopping cart
---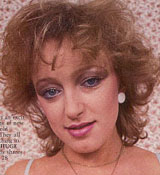 Debbie Jordan-p
Busty blonde British model popular from the mid 80s - early 90s. Was a regular in many of the major British mags and appeared in all of the major boob mags.
AKA: Debbie Sass in CLUB mags where she had a "Letters" column from 10/85 -6/86.
Also used the name April Roberts in numerous FLING mags.
---
---
---
---
---
---
---
---
---
---
---
---
---
---
---
---
---
---
---
---
---
---
---