0 items in the shopping cart
---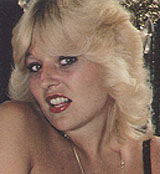 Lori Groneman-p
Platinum blond who appeared in the middle of 1978 and was really hot for about 2 years. Had short hair worn in a swept back style (remember 1978 was Farrah Fawcett's time) and dark eyes.
Frequent Covergirl who appeared extensively in PN type slicks as well as Newsstand titles such as CAPER 12/79 and TOPPER 4/80, Challenge Pubs such as Men's Challenge 1/79 and also GENT once in 1978 and 8/82.

Appeared under many different names but known aliases include Chris Anderson and Jeanette Harlow. Dependimg on which magazine it is she appeared as Bonnie, Kathleen, Vanessa, Marie, Bea (in Gent mags), Mickey, Melinda and the always popular Anonymous. I also seem to remember her from some 8mm movie boxes.
---
---
---
---
---
---
---
---
---
---
---
---
---
---