0 items in the shopping cart
---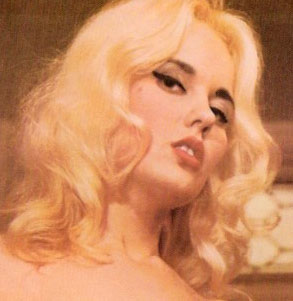 Annette Johnson-p
Attractive slim blonde British model from the mid - late 60s usually appeared under this name. Frequent CF (DAPPER 2/67, GENT 1/65, JEM 8/64) was in many major newsstand titles as well as some PN type slicks (MATINEE v3 #3). Also appeared on the FC of the digest-size Whitestone photography book #76 - 'London Figure Models'.
---
---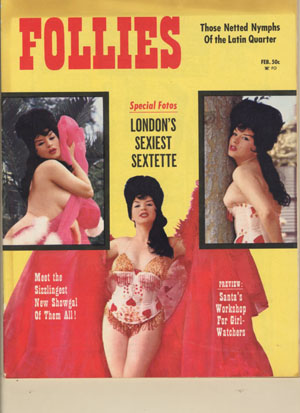 Product ID: foll1964-02e
(v8 #1) - Malina Markova has FC + 4 pgs. Jill St. Marie has 4 pgs, Annette Johnson, Bonnie King and Dena Clarke each have 3 pgs. Fran La Verne, Pam Kelly, Linda Barnett, Dinah Bay, Blossom Berry, Trudy Ormond, Pennie Bello and Ilona Adams each have 2 pgs. Suzanne Baxter has a full pg color pin-up as 'Alice Barnes'. Plus dozens of other models and features on 'London's Sexiest 6' and Paris showgirls. Clean & bright, small crease on top corner of BC and last couple of pages. Mag has a 1/2" strip of light browning (from sunlight) along top edge of cover - VG
Read More...
---
Product ID: vue1969-01d
Sharon Morrisey FC + 1 pg, Annette Johnson has 4 pgs, Melody Horn has 4 pgs, Alycia Montez has 3 pgs, Marilyn Monroe has full pg bikini pic, Carol Doda - 1 pic. Tons of other girls but names are worthless. Also a 6 pg feature on the movie 'Freakout' - supposed to be a documentary on LSD. Bright, glossy VG+
Read More...
---