0 items in the shopping cart
---
Others
---
---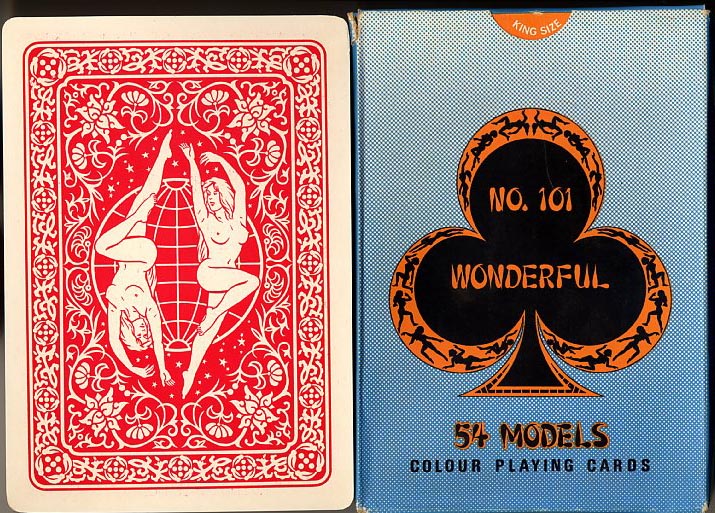 Product ID: pc-jumbo101
Wonderful #101 - Made in Hong Kong. No date, but probably 1980s. Super size deck (cards are approximately 5" wide x 7" tall) with 1960s vintage photos. Many familiar faces and a number of pics that appeared in MODERN MAN magazine. Models include June Wilkinson (Ace of diamonds), Diane Webber (Queen of hearts), June Palmer, Vicki Kennedy & Glenda Graham - 2 cards each. Plus Jane Dolinger, Carol Hill, Mickey Jines and some others you may recognize.
Box has some very minor wear, cards are new, unused.
Read More...
---

#9395 -No date but probably 1980s. Made in Hong Kong. Diminutive deck measures approximately 1 1/4" wide x 1 3/4" tall. So small it's hard to recognize the models but one Joker is Shiva Ramal and the Jack of Hearts is June Palmer. All photos are 1960s vintage and some other models appear to be Vicki Kennedy & Joan Brinkman.
Box in excellent condition, cards, are new, unused. Have 2 decks that are the same except they have different photos on the boxes. One has the 2 of spades on one side and the 4 of diamonds on the other. Second has Ace of diamonds on 1 side and 5 of diamonds on the other. Same price, your choice.
Read More...
---