0 items in the shopping cart
---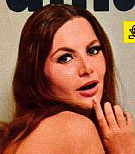 Bambi Allen-p
Silicone sweetie from the late 60s - early 70s who appeared in numerous adult films inc 'Street of a Thousand Pleasures', 'Ribald Tales of Robin Hood' and 'Nudies At Large' plus dozens of magazines.
In at least one instance her last name was spelled 'Allan' (Man's Pleasure 7/69 as CF). Also known as Ann Lanier and in at least a couple of cases appeared in the same magazine as both Ann Lanier and Bambi Allen.

There is also a porn star from the late 80s with the same name - that is a completely different girl.
---
Product ID: cabaququ.23b
Fall 1969 - Showgirls issue is Cover-to-Cover babes - lots of familiar faces. Ruth Anderson FC by Bunny Yeager. Bambi Allen, Yvonne Stephan and Sarah Madding each have 5 pgs. Jackie Nyles, Jill Barger, Jolene Terrier, Poupee and Chantal Vitra have 4 pgs each. Carol Ames and June Harris (as 'Heda Palmer' and Toni Marie in #26) each have 6 pgs. Sasha Sanders has 2 pg Color foldout. Lots more!! Barely touched, beautiful - FINE+
Read More...
---
Product ID: vid-stthsdplsr1970
1970 - 80 mins. A Harry Novak sizzler exposing the white slave trade. An unbelievable 71 different girls - nearly anybody who was IN films at the time. Including Joyce Gibson, Uschi Digard, Michelle Angelo and Bambi Allen. Yep - all in the same film - and for more than a few seconds. Softcore, simulated sex.
Read More...
---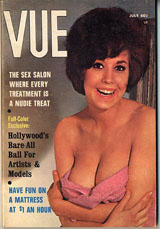 Product ID: vue1969-07d
Gaby Ryke close-up FC + 4 pgs (as 'Gaby Goodwin'), Blaze Starr has 4 pgs, Bambi Allen has 4 pgs, Susannah York 4 pg article about w/ pics. Feature articles on Artists & Models Ball in LA, swamp buggy racing, buffalo round-up in Montana, body painting and a solid gold bathtub in Japan. Bright, glossy VG+
Read More...
---