0 items in the shopping cart
---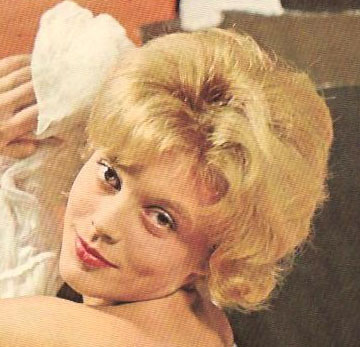 Annette Casir-p
Cute blonde model from the early 60s (last name sometimes spelled with a double 's') and usually billed as Scandinavian - Danish, Norwegian, etc. (one source lists her as a former Miss Copenhagen). Also had numerous appeareances as Helle Wingsoe.
According to some sources they ARE the same girl, but according to others they are not. I tend to think they are the same for the following reasons. Annette has a 7 pg feature w/ CF in TOPPER 7/61 - the photographer was Bill Hamilton. In one photo on pg 37 she is wearing a blue & white bikini. Another pic from this shoot was used as the FC of ACE 6/61 (also credited to Bill Hamilton) but the model is identified on pg 35 as Helle Wingsoe. Pics of Helle Wingsoe from ESCAPADE 4/61 & GENTLEMAN ANNUAL for 1963 look an awful lot like Annette as well and all are by Bill Hamilton. Unless Mr Hamilton was able to find 2 models who look so much alike that you can't tell the difference and photograph both of them in the same bikini within a matter of a few months it would seem they are the same girl - after all that's quite a string of coincidences.
Just make things even more complicated I have found a reference to Annette appearing under the name Jody Fleming. And in a really strange twist they are both in the first issue of TOPPER from 7/61 and are hard to tell apart - one of them is on the Cover.
Are Annette, Helle and Jody all one and the same girl?? Anybody know for sure!

See additional listings under Jody Fleming
---
---
---
---
---
---