0 items in the shopping cart
---
Kim Pope
Cute strawberry blonde was one of the first named stars of adult films.
---
---
Dee has FC, BC + 7 pgs and Barbara Seagram has 5 pgs inc CF. Kim Pope shares 7 pages w/ a couple. Monica Kennedy has 5 pgs, Erika Joyce has 7 pgs and Black model Candi Sweet has 6 pgs. Also a 4 pg B&W comic 'Cherizade' by El Fundador and a 1 pg color comic 'Sylph' by Frank Cirocco and a 1 pg B&W comic 'Welcome to Babylon West' by Mary Sativa. Fine+
Read More...
---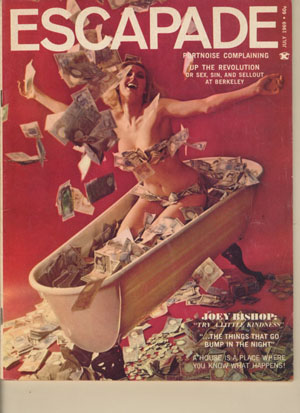 Product ID: escp1969-07e
v14 #7 - Unusual FC of a girl in a bath tub full of money. Janeth Agren has 4 pgs inc CF (she was also CF of Cavalier 7/68), Femi Benussi has 3 pgs (she was CF of Swank 2/69), Kim Pope in rare magazine appearance has 3 pgs and Pam Lewis has 2 pgs as 'Tami' (she is also in 11/68 and 12/68). Articles on the Volkswagen SCX GT, Joey Bishop, lobsters and a book review of 'Portnoy's Complaint'. A bit of normal wear - some stresses and clean light crease on bottom right corner - plus a thin spot on BC (probably from a piece of tape that stuck) - nice VG
Read More...
---