0 items in the shopping cart
---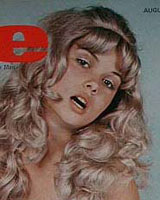 Fawn Faurote-p
Very popular model from 1972 to the mid 70s. Was a frequent Covergirl and/or CF under a variety of names. Often appeared with medium length reddish brown hair in several different styles. However, she also made numerous apps with fairly long, curly platinum blonde hair (a wig?) including one photo shoot for Keith Bernard that was used in several magazines including Glamor Photography #16, as Swank Sweetheart for 8/72 and the CF of Vue 1/76 all under the name Fawn Faurote.
She was Covergirl of the following mags w/ dark hair - Adam 7/72, Cavalier 10/72 (also CF), Climax 10/72, 2/73 & 12/73, Dude 5/79, Escapade 5/77, Genesis 3/74 and Man's Pleasure 3/72. She was also Covergirl of Ace 8/76 & Cavalcade 8/72 as platinum blonde.
She also appeared in a handful of early 70s porno loops including Pretty Girls #1 titled All Day Sucker.
Also known as Fawn Wylde and Dee Bertini

As noted, she also appeared under a variety of names aside from those listed above and one in particular is of note - 'Danillo Fairbanks'. I have seen other websites that say she is the same girl as Fawn and for a long time I was inclined to go along with that identification. That is until I amassed enough photos from enough different sources to cast some doubt on that assertion. For that reason I have created a separate category for Danillo Fairbanks that gives details why I question this identification and has an extensive lstins of her apps.

For additional listings/info please see Danillo Fairbanks.


---
---
---
---
---
---
---
---
---
---
---
---