0 items in the shopping cart
---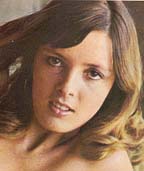 Denise Taylor-p
Trim brunette with shoulder length hair, often worn in pigtails. Appeared in all the major mags - newsstand as well as PN type slicks - from about 1972 - 1974 plus some later reprints. Very easy to recognize.
Denise Taylor is name given in CF features Of Man's Pleasure 5/73 and Man's Delight 4/74 (same photo set in both). Also used in SIR 11/73 and was just Denise in Debonair 9/75.
Other names include just plain Nancy (All Man 11/72, Debonair 3/74 and 3/79 plus MR. 10/74), Nancy Collins (CF of MR. 4/73) and also Nancy Beldmar (Best For Men 3/74 and SIR 9/73). Also appeared as Cindy in Climax 8/73 and was Sally on FC of Man Crazy #4.

She is probably better known in Europe as Nancy Beldner - she is Covergirl & CF of Parade 9/23/72 with this name.
---
---
---
---
---
---
---