0 items in the shopping cart
---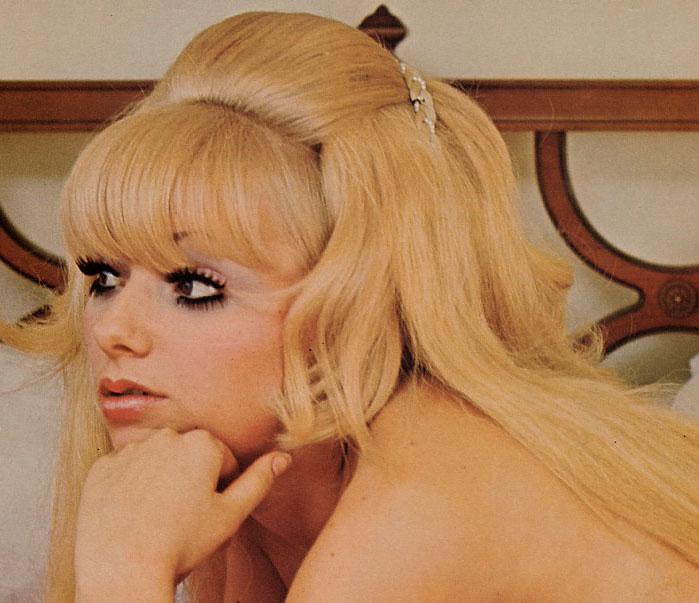 Danillo Fairbanks-p
Popular model from the early to mid 70s w/ long cascading blonde hair and dark eyelashes who appeared under a variety of names. Danillo Fairbanks is the name used in Daring 10/72. She was a frequent Covergirl (Adam 9/73, Stud 5/74 and Swingle 9/72 & 10/73) and/or CF (Daring 10/72, Man's Delight 11/74 and Man's Pleasure 1/73).

Some other names under which she appeared are Kelly Brier (Adam 9/73 & Man's Pleasure 1/73), Heidi (Men's Challenge 10/72) and Stephanie Norton (Tiger #28). I have seen other websites that claim this is the same girl as Fawn Faurote, however, I am not 100% convinced that this is accurate. Fawn Faurote appeared with fairly long, curly platinum blonde hair, Danillo's hair is much blonder, a bit longer and tends to be straighter. Danillo has a series of 5 moles or freckles on the inside of her breasts (3 on 1 and 2 on the other) that are fairly obvious in many of her photos. I have found NO photos of Fawn that show these and I have found scores of them. Danillo also sports the dark eyelashes in all of her photos and these are absent in Fawn's.

There is a girl who appears in several issues of DUKE & JAGUAR plus NIGHT & DAY 10/72 that I have indluded in lstings for Danillo Fairbanks even though she may possibly be a different girl. The main difference is that the girl in Duke & Jaguar does not have any bangs but has her hair swept back and tied with a pink bow.

There is a separate category for Fawn Faurote with extensive listings of her apps.










---