0 items in the shopping cart
---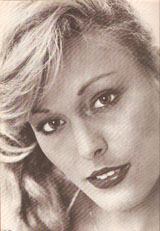 Jill Dershon-p
Trim blonde, occassional brunette, with short hair. Very popular model from the early 80s with multiple appearnces as Covergirl & Centerfold.
There is a great deal of confusion concerning her identity. She appeared under many different names, and often anonymously or with just one name, the most common being Jill. The name Jill Russo is from Girls of Penthouse #20 (dated 9/86) and is the closest thing I can find to a real name that is used more than once. Please see listings under Jill Russo.
Sometimes called Jackie Monroe - she appeared as the Centerfold in High Society 12/80 under that name.
Front cover appearances include CHERI 4/81 & 9/82 - both as Paulette, KNAVE 1/81, LIVE 10/83 and GIRLS OF PENTHOUSE #20 (9/86).
---

Currently, there are no listings in this category. Check back soon for new additions!