0 items in the shopping cart
---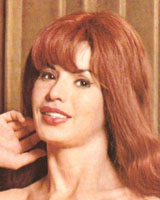 Dorinda Bernard-p
Busty Redhead was popular from mid 60s to early 70s. Appeared under this name in KNIGHT 3/67 and French Follies v3 #3. Was Sheila Grayson in DUKE 2/70 & JAGUAR 7/68 w/ CF. Please see listings under Sheila Grayson.
She was CF of MODERN MAN 9/66 as Judy Paradise and had FC + CF of MODERN MAN the following month (10/66) as Julie Paradise - it says they are the same in the mag. Also appeared as June Ling in FOLLIES 5/71 and Carol in NIGHT & DAY 3/72 (nice 8 pg feature).
There is also a model from the same time frame who looks very similar but always appeared w/ her hair in braids. She was covergirl w/ pictorial of MODERN MAN 4/66 as Trippi Skepington. She appeared in numerous mags but always under a different name (was CF of ROGUE 11/66 as Stephanie Hallow). I've been told this is the same girl as Sheila Grayson/Dorinda Bernard but have no conclusive evidence so I have kept those listings separate. Please see listings under Trippi Skippington for the girl w/ braids.
---

Currently, there are no listings in this category. Check back soon for new additions!