0 items in the shopping cart
---

Juli(e) Redding-p
1950s blonde bombshell starred in the 1960 horror film 'Tormented'. Also appeared in numerous TV shows from the late 50s - 60s. First name usually appears as Julie w/ an 'e' but correct spelling is Juli without the 'e'.
---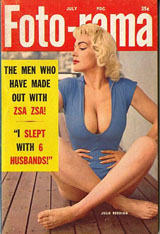 Julie Redding has nice FC, 6 pg feature on zsa Zsa Gabor and her boyfriends. Marilyn Nonroe has 6 pgs w/ Tony Curtis, Kim Novak has 5 pgs, Laya Raki has 6 pgs and Barbara Yang (aka Yung, Young) has 7 pgs. Mag also has nice 2 pg color foldout and articles about Elvis in Germany and David Janssen as detective Richard Diamond.
Read More...
---

Product ID: high1958-04d
v1 #6 - Last issue in 4 x11 format. Stunning Lili St. Cyr FC. Diane Webber has 4 pgs, Vikki Dougan has 6 pgs and Julie Redding has 4 pgs. Also a Pat Farrell CF and full pg color pin-ups of Marilyn Maher, Sandra Edwards & Abbe Lane. A nice 6 pg feature on classic nude paintings by J. L. Gerome plus 6 pgs on Japanese Kabuki theatre and 6 pgs of a real dog fight. Also 4 pgs on boxer Eugen Criqui and fiction by Ernie Kovaks 'Private Showing'. Light rubbing along spine and on BC but FC is bright & glossy, staples are rusty - VG+
Read More...
---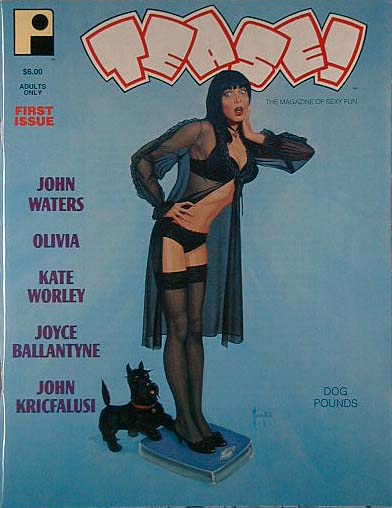 Product ID: tease.1
1994 - Actually says v2 #1 (Previously The Betty Pages) in publication credits as this title is designed to be a continuation of the cheesecake/pin-up theme of that title. Later issues do not have the volume designation and are simply numbered.
FC illo 'Dog Pounds' by Greg Theakston. Article about 50s blonde bombshells Juli Redding & Sandra Giles. Interview w/ pin-up artist Joyce Ballantyne has numerous pics & illos. Interview w/ film director John Waters. Nice piece on Hollywood 'creature features' starring 'distressed damsels in prehistoric peril'. Also the 'Exotic World' Museum, 3 pgs of vintage French postcards and 3 pgs of artwork by Olivia de Berardinis inc CF titled 'Bon Bons'. A memoir by Kate Worley and 6 pgs of drawings by John Kricfalusi.
NEW - unread copy - FINE++
Read More...
---