0 items in the shopping cart
---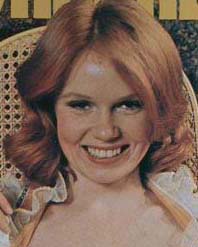 Sharon Kelly-p
Very popular red headed model had a long career and was frequent Covergirl and/or CF in numerous pubs. Began as a b-movie actress in the early 70s. Started appearing in magazines around 1974 (MODERN MAN 1/74, WILDCAT 3/74 are some of the earliest I've found). Early in career had longer hair but around 1975 adopted a much shorter style.
Early apps were under a variety of names - Sharon Kelly in MODERN MAN 1/74 and GENT ANNUAL for 1977, Denise Kelly in WILDCAT 3/74, Sara Keene in NIGHT & DAY 8/74 and SQUIRE 12/74.
About the same time as her change in hair style and for the next few years made a number of apps under the names Claudia (MANS PLEASURE 4/77 & DEBONAIR 4/78) and Lisa Love (VUE 9/75 & 1/77 and FLING 9/80 - was Lisa Langly in FLING 7/77). An interesting feature in MR. ANNUAL Spring, 1976 has pics of her w/ both long and short hair.
There seems to be a break of about 2 or 3 years but she resurfaced in the early 80s as porn star Colleen Brennan. For apps under that name please see Colleen Brennan.
---
---
---
---
---
---
---
---
---
---
---
---