0 items in the shopping cart
---
Jane Powell
Popular Hollywood actress and pin-up girl from the 40s & 50s.
---
---
Product ID: modvd-3dspu.2
v1 #2 - 2/54 by Three-D Mags Inc. Entire 36 pg mag is pin-ups but only 16 pgs are in 3-D. Jane Powell has FC, Marilyn Monroe has excellent full color pin-up BC, and Cleo Moore and Delores Dorn have the inside covers. Others featured include Debbie Reynolds, Denise Darcel, Elaine Stewart, Thelia Darin, Mamie van Doren, Anita Ekberg, Ava Gardner, Piper Laurie, Debra Paget, Martha Hyer, Esther Williams, Barbara Nichols, Martine Carol, Mitzi Gaynor, Gloria Pall, Anne Francis, Terry Moore and more!!!
Please note that this item is a CD - NOT the magazine itself.
Read More...
---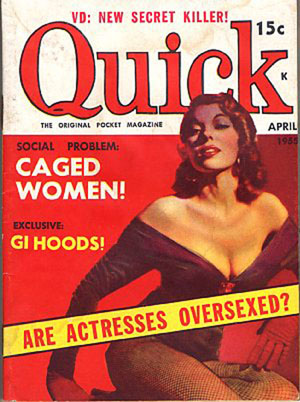 Product ID: ps-quic1955-04
v1 #4 - Helene Haydn on inside FC, Joyce Johnson on inside BC. Mitzi Gaynor has 3 pgs, Jane Powell has 5 pg story w/ pics. Features on love starved actresses w/ lots of tiny pics, sports cars - kiddie-car coffins, caged women, Air Force Hoods - Pachucos (Mexican gangsters) and VD. Some light water marks and a bit of warping - not too bad, and no stuck pages - Good
Read More...
---