0 items in the shopping cart
---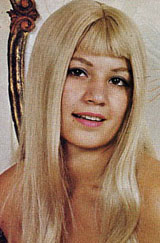 Sandy Mayer-p
Busty model was a regular in Challenge Pubs and PN slicks from 1972-1974. Appeared under a variety of names and as both blonde and dark haired. Sandy Mayer is from Night & Day 3/72 with FC + 8 pgs inc CF. The same month she was also covergirl w/ 9 pgs for Men's Digest.
She also appeared frequently as 'Maria' - DEBONAIR 4/74, MR. 5/73 as Maria Beagh and Man's Delight 12/72 (FC & CF) as Maria Masters.
In addition the name 'Blanco' with or without a last name Mazzola comes up repeatedly - see Men's Challenge 10/72 w/ FC + pictorial, CLIMAX 8/74 and Night & Day 7/73.
There is also a very nice feature in TOP HEAVY #7 where she is called Brandy Vega.
And in case that's not confusing enough she is also apparently known as Sherry Hague although I cannot trace the origin of that name.
---
---
---
---