0 items in the shopping cart
---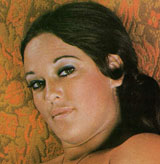 Shirley Bowman-p
Very buxom brunette model from the early 70s. Appeared in several issues of FLING, GENT 6/72 and THE SWINGER8/71 and was CF of NIGHT & DAY 12/72. Usually appeared under this name or just Shirley.
---
---
Product ID: gent-spec.032d
Spring 1993 issue titled 'Natural D-Cups' (this could possibly be #31 or 33, it is not numbered). Ingrid Barsby has FC + 6 pgs, Sasha has 8 pgs inc CF - looks like Connie Combes, the CF of Fling 7/91 billed as the female Elvis. Nice section on vintage models has 2 pgs each of Dean Ackerlund & Shirley Bowman plus Barbara Miller has 3 pgs. Also Devon Daniels has 6 pgs, Shona MacTavish has 8 pgs and Nilli Willis has 7 pgs. Very bright & glossy, some stresses and small bump on top right corner - VG+
Read More...
---
Product ID: tswin1971-08d
v4 #2 - Ginger Blair has FC + 7 big pgs inc CF. Shirley Bowman has excellent 5 pg feature. Kylene Smythe has 5 pgs, busty blonde Barbara has 6 pgs, Teri has 4 pgs Nickie Stevens has 2 pgs as 'Chris'. Light ink stains along some edges but not bad, small bump on top right corner - glossy VG+
Read More...
---