0 items in the shopping cart
---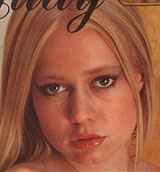 Carrie Nelson-p
Slim, young looking blond model with medium to fairly long straight hair, often braided. Featured in dozens of mags from 1978 thru the early 80s and was a frequent Covergirl/CF.
Usually appeared under a single name and sometimes anonymously. Carrie Nelson is name used in Penthouse magazine.
Was Covergirl and Pet of the Month w/ a long 13 pg. pictorial inc CF in Penthouse 1/78. Was also the Covergirl of Penthouse 11/78 and has several pics in the lingerie feature in that issue. Also has 1 page in the 1979 Penthouse desk calendar.
Other notable appearances include CAPER 5/78 w/ 4 pgs inc CF (as Monica), HIGH SOCIETY 1/79 Covergirl + 7 pgs (as Heather Rutherford), PUB 2/81 Covergirl + 8 pgs w/ CF (as Susan) and STAG 11/78 w/ 7 pgs inc CF (as Gabrielle Hansen).
---
---
---
---
---
---
---
---
---
---
---
---
---
---
---
---
---