0 items in the shopping cart
---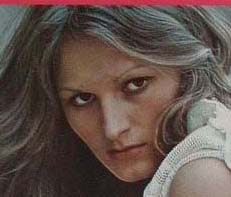 Joy Woods-p
Trim, somewhat busty, athletic model w/ medium length blond to light brown hair - sort of a hippie looking chick. Was in a slew of mags, mostly from 1973-74.
Was Joy Woods in SWANK 3/73 w/ 8 pgs inc a foldout CF. Also Joy Woods as Covergirl w/ 5 pgs inc CF of MODERN MAN 5/73, Covergirl w/ 6 pgs inc CF of DEBONAIR 5/73. Had 6 pgs in MAN TO MAN 3/74.
Was a regular in Challenge Pubs under a variety of names. CLIMAX 9/73 as Jane, NIGHT & DAY 12/72 as Connie, SQUIRE 8/75 as Jane Webber.
Also appeared in numerous PN type slicks inc SEX BOMBS - v1 #1 (as Joy Woods).

aka Joy Sarah Wolin.
---
---
---
---
---