0 items in the shopping cart
---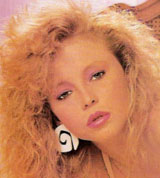 Barbii-p
Popular strawberry blonde model/porn star from the late 80s - early 90s. Name is usually spelled with a double 'i' but sometimes appears as 'Barbi'. Appeared in Hustler 1/88 as Barbii Hall. aka Michelle Verran.
There have been many models who have used the names Barbie, Barbi etc. I have done my best to list here only those apps of which I am sure.
There is also another blonde porn star from about the same time frame who used the name Barbie Dahl - they are not the same girl.
---
---
---
---
---
---
---
---
---
---
---
---
---
---
---
---
---
---
---
---
---
---
---
---
---
---
---
---
---