0 items in the shopping cart
---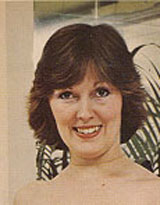 Nana-p
Busty, slightly plump short-haired brunette from late 70s - early 80s. Had dozens of apps in all the major boob mags, numerous PN slicks and many of the Challenge pubs. Trying to figure out what to call her is tricky since she had a different name in almost every publication. Aka Nanette Shelter (Shelton) but I have never seen that name published. Is sometimes confused w/ Beth (Bertha) Berenson.
Was CF in BUF 4/78 as 'Nanette' and Covergirl & CF of 7/80 as 'Nedda'. Featured in GEM 6/81 as 'Nellie' and 10/85 as 'Nan'. Was in GENT 6/78 (as 'Olga') and also appeared in the issues of 12/79, 7/81 and 6/82. Had 4 pgs in FLING 3/79 (anonymously) but in later issues (5/80 & 5/82) is called 'Nikki' or Nikki Popoulas.
Was a frequent Covergirl of PN slicks inc 38-26-34 v15.2 (as Cheryl), Kingsize v9.3 (as Nancy) and WHOPPERS v2.4.
---
---
---
---
---