0 items in the shopping cart
---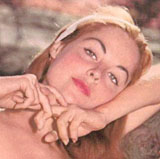 Marguerite Empey-p
Better known as Diane Webber - see listings under that name.
---
---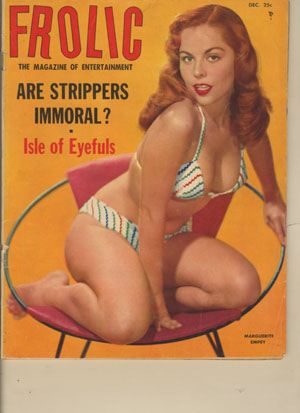 Product ID: frol1955-12f
Marguerite Empey (aka Diane Weber) has great FC + a 2/3 pg pic, the CF is billed as Lorca. Lee Sharon, Betty Brosmer, Elaine Kelly, Jean Williams and Judy O'Day each have 2 pgs, Linda Lombard, Val Njord, Sarita Monteil, Kathy Marlowe and Busty Brown each have 1 pg. Plus a 4 pg feature on Strippers w/ pics of Lili St. Cyr, Misty Ayres,Tempest Storm, Sherry Knight and 8 others. And dozens of other popular models. Well read, light corner creases, spine wear, small tears at staples, some crayon marks on a few interior pgs, CF is detached but FC still nice - Good
Read More...
---