0 items in the shopping cart
---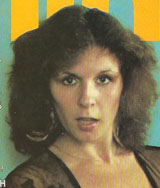 Doreen (Dori) Cormier-p
Busty model popular from late 70s to mid 80s. Appeared in all the major boob mags and numerous PN slicks - usually anonymously. Appeared in FLING 5/79 & 9/79 (FC + pictorial) as Dolores (Dee Dee) Cortier and 4/84 as Doreen Carmine. Was Dory in GENT 1/81 and others, Covergirl of ADAM CHOICE v2 #8 as 'Doreen'. Also known as Doreen Courier, Dori, Dory and pretty much any other variation you can think of.
She has several distinctive looks so it's hard to make ID's. Most of her apps in FLING & GENT are w/ shoulder length dark hair. Most of her apps in PN mags are w/ relatively short, reddish/blonde or reddish/brown hair. In many photos she wears the same matching beaded necklace & bracelet and in many other she has a red scarf around her neck.
Was the star of the 8mm film from Richard Rank titled 'The Saga of Big Bertha' that was heavily advertised in mags of the time.
---
---
---
---
---
---