0 items in the shopping cart
---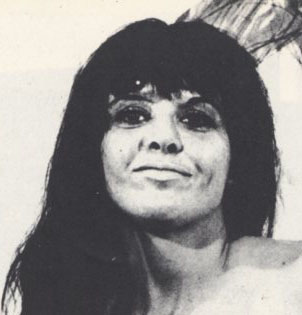 Annette Fiotto-p
Busty dark haired actress/model from the early 70s. This is almost certainly a bogus name but is the only thing even close to an ID that I can find for this model. Her pics appeared in numerous mags but quite often with only a single name or none at all. This was the name used for her appearance in Fling 5/72. She also starred in the early 70s nudie flick 'In For Life'.
---
---
Product ID: pn-40rtyplus-v03.03-rep
This one is a bit of a mystery. It has the Eros Publishing information and Summer 1973 date on the inside FC - same as the original, but no list of contents and the pages are not numbered. The original had 72 pgs but this is only 56 pgs. Covergirl Terry Jackman also has 6 pgs as 'Nikki' and Annette Fiotto has 8 pgs. Most of this is misc photos with no IDs as opposed to single model pictorials but there are several familiar faces. Alice Conet has 3 pgs, a busty blonde who appeared in Dapper 12/82 as Belinda Bell has 2 pgs and Janice Ormes has a nice full pg pic. Some normal wear but no serious defects. Some spine stresses and scuffing on cover, remnant of small price sticker in upper right corner, center pg is detached - VG
Read More...
---