0 items in the shopping cart
---
HARRISON MARKS
Legendary British photographer of the 50s & 60s who discovered and/or popularized many of the top models of the era. Extremely prolific he produced literally hundreds of magazines as well as numerous early nudie movies. All of his original work is highly prized and sought after by collectors and normally sells for top dollar.
Just a few of his favorite models that he photographed frequently include June Palmer, Margaret Nolan aka Vicki Kennedy, Teri Martine, Monique Devereaux, Paula Page, Lorraine Burnette, Pamela Green, Ann Day, Sharon Church, Nicky Stevens, Barbara Halks and many, many others.

All of the magazines offered here are modern reprints from original negatives by Nostalgia Publications, Ltd. of England and are excellent quality. All are Digest size (approximately 6" x 8") w/ B&W photos unless otherwise noted.
---
---
Product ID: hm-kameraclassics
Smaller digest size (4 1/2" x 7") mag from Blue Star Pubs is 32 pages - all full page pics. June Palmer FC + 6 pgs, Vicki Kennedy has 4 pgs, Monique Devereaux has 4 pgs, Ann Day has 3 pgs plus Nicky Stevens, Barbara Halks, Gerry Brown, Jill Evans, Cleo Simmons, Pamela Green and more. No credit for pics is given but appears to be all Marks. Excellent shape.
Read More...
---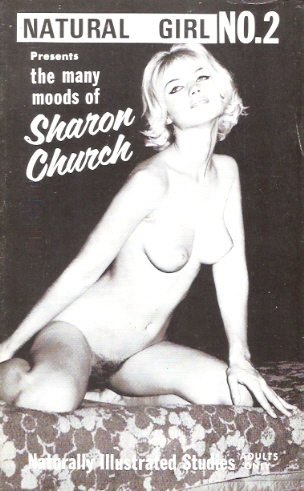 Product ID: hm-natgirl.2
No publisher info given. Digest size mag is 24 pages - all (except inside FC introduction) full page photos of Sharon Church. Lightly read.
Read More...
---