0 items in the shopping cart
---
Maila Nurmi
Early '50s swimsuit model probably best known for her role as Vampira - host of Sat. night horror show on LA TV in the mid 50s.
---
---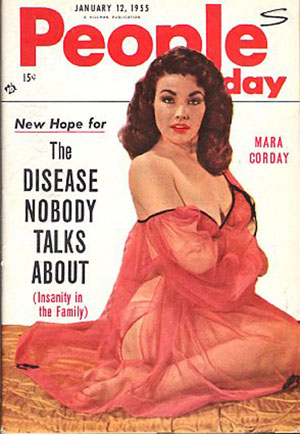 Product ID: ps-peto1955-01-12
v10 #1 has really nice Mara Corday FC in sheer red nightgown + 5 pgs inc CF. Good 4 pg feature on Vampira (Maila Nurmi) and a 4 pg feature on the musical 'Silk Stockings' w/ pics of Hildegard Neff. Mamie Van doren has nice 1/2 pg pic. Articles on Dr. Edward Teller (father of the H bomb), smog in LA and newspaperman Paul Wooten. Bright, glossy VG++
Read More...
---
1961 - Glenda Graham has nice FC, Virginia Gordon has 5 big pgs, Mimi Harris has 4 pgs. Dena Scott is CF, Japanese stripper Rose Yuki has 4 pgs and a feature on Frankfort strip clubs. Also fiction by Earle Schell 'Armstrong & Son' and Connie Sellers 'On Dark and Lonely Nights', Bullfighting, and a 1 pg article about Maila Nurmi, TVs Vampira. VG copy has diagonal crease from top left to bottom right, 3 sets of staple holes along right edge. Good copy has multiple creases on cover.
Read More...
---