0 items in the shopping cart
---
Stella Stevens
Popular movie star was PLAYBOY PLAYMATE for 1/60.
---
---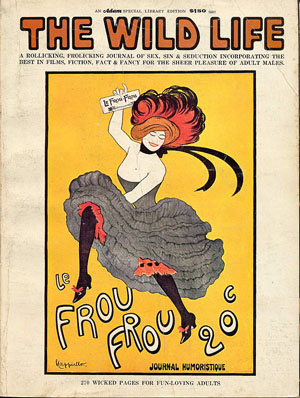 Product ID: adam-spec1970
The Wild Life. Illustrated FC of a French Can Can Dancer. Contains 3 magazines minus front covees - Adam Film World v2 #2 (3/70), Adam magazine 8/70 and Adam Bedside Reader #39. Highlights include:

AFW - Reviews of Trader Hornee, Fellini's Satyricon, Jezebel, Two Mules for Sister Sara, De Sade w/ Senta Berger, and Quemada w/ Marlon Brando. Also has a very long Interview, and lots of pics w/ Stella Stevens and Sam Peckinpah (Ballad of Cable Hogue).

Adam 8/70 has long 9 pg pictorial inc CF of Eve Lance (aka Michelle Brentford), 6 pgs of a girl named Cinderella and 2 pgs of Claudia Siegfried (is Claudia Seifert). Liz Sims has 5 pgs and Claudia Brookwell has 4 pgs. Plus a long feature on a Hollywood commune called 'The Family', a movie review of 'Woman On Fire', fiction by Charles Bukowski 'Everybody's Got One' and Bill Ward has a 1/4 page B&W cartoon.

ABR #39 - 6/69 - Mag has 15 stories, Janet Price (aka Laura Patten, Peggy Cooper) has 1 pg.

White covers are a little rough - a few creases and a bit of soiling but interior of book is in very nice shape - VG
Read More...
---
Product ID: cavr1963-06c
Stella Stevens has 6 super sexy pgs. A tour of the Monte Carlo casino by Ian Fleming. Grace Evans huge 9 pg feature inc giant 3 pg CF. Very light wear, Fine
Read More...
---