0 items in the shopping cart
---
Carrie Radison
PLAYBOY PLAYMATE 6/57
---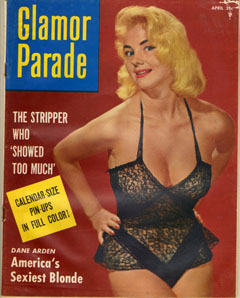 Product ID: glampard1957-04e
v1 #5 - Dane Arden has close-up FC in black lace teddy + 2 pgs, Carrie Radison (Playboy Playmate of 6/57) is CF. Dixie Evans has 3 pgs, Sequin Garner & Brande Kayse each have 2 pgs inc full pg color in-ups. Clementine Drew, Jackie Miller and Claire Fitzpatrick each have 2 pgs. Plus dozens of other models inc Irma the Body, Gilda James(child star Gloria Jean from the Our gang comedies) and Marley Sanderson. Very faint H2O marks along bottom edge & spine, small scuff in upper right corner - still nice
Read More...
---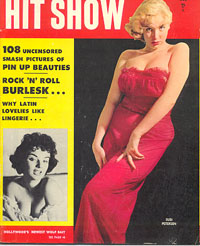 Product ID: hitsh1957-03d
v1 #1 contains "108 Uncensored Smash Pictures of Pin Up Beauties". Covergirl is Susi Petersen. Zahra Norbo (future Playboy Playmate of 3/58) has partial FC + 3 pgs, Maria Stinger has a nice B&W CF, Lili Lamont has 4 pgs, Sharon Knight has 3, Dixie Evans, Marilyn Maher, Corrie (aka Carrie) Radison (future Playboy Playmate of 6/57) and Camille each have 2 pgs. Loaded w/ your faves inc Vickie Palmer, Alice Denham, Elliot Lor, Eve Bartok and many more. Some scuffing on cover, a few tiny chips on edges of BC but still bright & shiny - about VG+
Read More...
---
Sharon Richardson Covers + 2 pgs, Jeani Mack color CF, 3 pgs of Carrie Radison as Blind Date and Jane Dolinger too.
Read More...
---