0 items in the shopping cart
---
Lucienne Camille
Trim, athletic black model from the early 70s. Usually appeared under this name or simply as Lucienne or Camille. Often billed as being from some exotic locale - Senegal, the Seychelles Islands, etc.
aka Sylvia Bayo
---
---
Topless girl lying on beach FC. Anna Noble (was 'Anna Parlane' in MEN ONLY v40 #7) has 9 pgs inc CF. Lucy Lunn has 5 pgs as 'Alma' (last name Bradley in MEN ONLY v40 #5), Plus Jane Holman has 5 pgs, Donna has 7 pgs and Black model Lucienne Camille has 6 pgs w/ white boyfriend. Interview with Telly Savalas, The Model T Ford, a great 2pg. illo by Chris Achilleos, Milly Molly 4 pgs, Fiona in Bali and Karl Steiner 'The Booted Foot'.
Read More...
---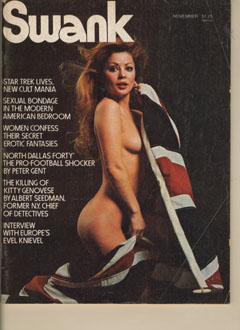 Covergirl is Penny Irving, Tarot Gretyana has huge 11 pg feature inc CF - she was Covergirl & CF of CLIMAX 9/75 as 'Margo'. Betsy Lynn has 7 pgs and Black model Luna (is Lucienne Camille aka Sylvia Bayo) has 5 pgs. An Interview w/ high-wire walker Philippe Petit and articles about Star Trek, the killing of Kitty Genovese and bondage. VG+ copy has a couple of clean corner creases, light 'rubbing' and a small 1/2" tear on top left corner of BC. VG copy has normal wear but no serious defects.
Read More...
---