0 items in the shopping cart
---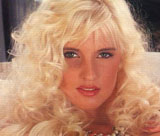 Channell-p
Tall, slim, very blonde model from the 90s. Was US Penthouse Pet of the Month 12/90. Appeared in hundreds of mags from around the world - American, British, European, Japanese.

Appeared unde this name in multiple issues of CHERI & HIGH SOCIETY.

Better known as Diana Van Laar - please see listings under that name.


---

Currently, there are no listings in this category. Check back soon for new additions!