0 items in the shopping cart
---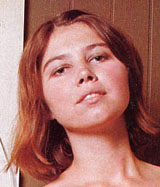 Ditta Haslund-p
Busty Danish model with short brunette hair. Popular throughout the 70s w/ many appearances in most boob titles. Key appearances include THE SWINGER 2/71 w/ FC & CF feature, FLING 5/72 & MEN'S DIGEST 6/71 FC & feature (as Babs Dietrich).
Also known as Dette and Ilsa Hanson, Hansen
---
---
Product ID: dapp1974-03d
A dozen diff girls w/ over 50 pgs of pics. Ditta Haslund has 4 pgs as 'Laura Cooper', Michelle Trosello has 4 pgs as 'Pamela Lefferts', Carol Stern has 5 pgs as 'Lois' and Terri Marsh has 3 pgs as 'Tish' - she is also in Debonair 2/70. Other familiar faces w/ bogus names. Light wear, VG+
Read More...
---