0 items in the shopping cart
---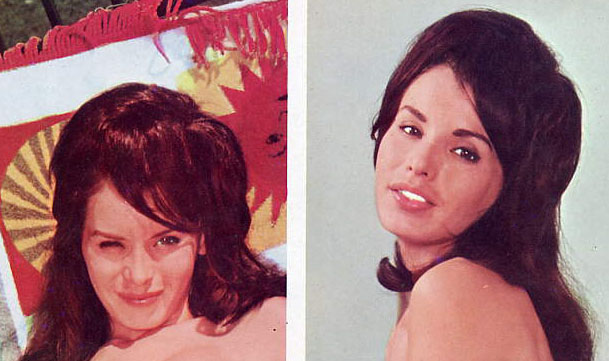 Kathy Gordon-p
Busty brunette w/ shoulder length hair popular from the late 60s to early 70s. Was Covergirl w/ pictorial of THE SWINGER 5/68 and appeared in GEM 5/71. Every app I've found has been under the name Kathy - last name Gordon is from ACE HIGH #8. Was Kathy Cordon (w/ a 'c') in DEBONAIR 5/67 and also ALL MAN 11/70, but that was a reprint of the DEBONAIR feature.
---
---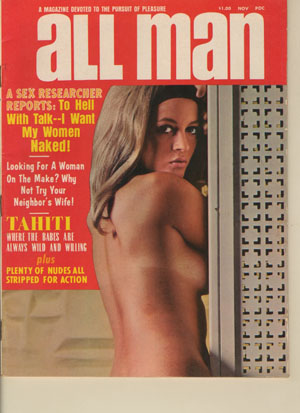 Product ID: allm1970-11d
The photo on the FC of this issue is the same photo used on the cover of Debonair 7/68 and the girl is identified as 'Jill Vance'.Teri Martine (with black hair) has 6 pgs inc CF as 'Julie Nash', Kathy Gordon has 4 pgs (as Kathy Cordon), Gillian Evans also has 4 pgs (she is also in FLING 11/70). Still more of those sexy 70s babes. VG+ copy has first page of Julie Nash pictorial Signed & inscribed 'Julie Nash also known as Teri Martine!' by Teri. VG copy is not signed.
Read More...
---
Product ID: cavd1967-07c
v6 #5 - Holly Debson has 5 pgs inc CF, Kathy Gordon (FC of The Swinger 7/68) has 5 pgs as 'Kathy Cordon' and actress Susan Denberg has 3 pgs. Ruth Ritterburg, Betti & Byon each have 4 pgs. Features on actor Michael Caine and sumo wrestlers adrticle about Baseball's 'Bean Ball'. Bright , glossy yellow cover - Fine.
Read More...
---