0 items in the shopping cart
---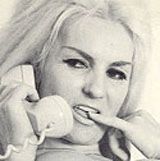 Lili Duchee (Dush)-p
Busty blonde model from the late 60s - early 70s. Often appeared in black nylons & garter belt and had one extensively reprinted photo set in black cowboy hat & boots w/ a 6 gun.
Name is spelled with variations inc Lilli & Lilly. Last name also has variations - Dachee, Dushee, Dush.
Appeared in dozens of mags including DEBONAIR 10/70 (as Lili Dachee), FLING 7/70 (as Lily Dush), GEM 7/69 & MANS PLEASURE 1/69 (both as just Lili), MODERN MAN SPECIAL #60 (as Lili Duchee) and numerous PN type slicks inc French Follies v3 #4 (also as Lili Duchee) and Blond Bombshell #4 (as Laura Drake).
---
---
---
---
---