0 items in the shopping cart
---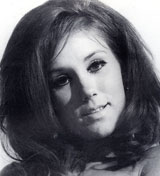 Candy Earle-p
Very popular model from the mid 60s to early 70s. Appeared in nearly every newsstand title of the day as well as PN type slicks, nudist mags, British mags (Escort, Parade, etc) and some early softcore films. Was a frequent covergirl - ADAM 10/67, BACHELOR 12/67, CAVALCADE 4/74, DAPPER 10/67, JAGUAR 11/68 (w/ CF) & 8/70, MODERN MAN (3/67) - are a few.

aka Tasha Stevens (Had 7 pgs w/ CF in SWINGLE 5/69 under this name). Also Tisha Stevens (ADAM 8/67).

Also made several apps as just Emily (THE SWINGER 2/69 & 8/69) or w/ assorted last names - DAPPER 10/67 (Emily Bal Dazar), FOR MEN ONLY 1971 Annual (Emily Carter).
---
---
---
---
---
---
---