0 items in the shopping cart
---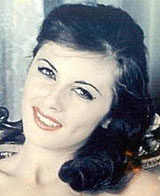 Eve Eden-p
Originally known as Rosa Dolmai, this dark haired British bombshell shot to fame in the late 50s. Featured in nearly every pub of the period including FLING #15, FROLIC 12/58, HIT SHOW 1/59, KNAVE 3/59, SCAMP 5/59 and 11/59 plus the issue of 9/59 as Beth Bradley.
After a scandal involving bondage photos, Rosa disappeared to be replaced by a blonde Eve Eden. The blond phase lasted for about 2 years and appearances include ESCAPADE 6/61, GENT 8/61 and HI-LIFE 3/62.
By the time of her appearance in MODERN MAN 6/63 she had returned to her original dark hair but in a shorter style than the 50s. Continued to make scores of appearances in dozens ot titles throughout the 60s including Front Covers of DEBONAIR, 3/68, ESCAPADE 8/63 and TRUE ADVENTURES 2/67.
As Eve Eden she appeared regularly on British TV throughout the 60s and also had minor rolls in films including the Beatles 'Help'
Appearances as Rosa Dolmai are listedseparately - please see listings under that name.
---
---
---
---
---
---
---
---
---
---
---