0 items in the shopping cart
---
Judy Landon
---
---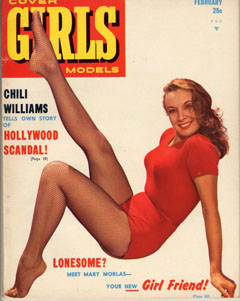 Product ID: cogm1951-02d
v1 #8 - Judy Landon has FC + 4 pgs. Mara Corday has 4 great pgs as a blonde. Chili Williams has 6 pgs, Mary Morlas has 8 pgs. Marilyn Monroe has a stunning color pin-up on glossy paper. Extremely bright & glossy, almost new, has small nick in upper left corner and less than1" split at bottom of spine - VG++. You don't see many mags from this time frame in condition this nice!

Read More...
---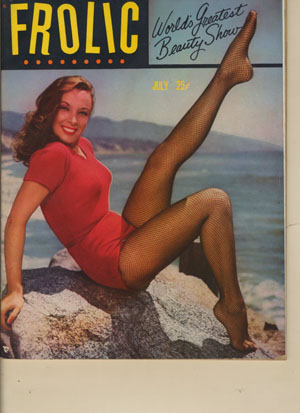 Product ID: frol1951-07d
v1 #2 - Judy Landon has sexy FC + a 2/3 pg pic. Jean Smyle (aka Venus The Body) and Dolores Rosedale aka 'Roxanne' each have 4 pgs; Irish McCalla, Lou Campbell and Jerri Wilson each have 3 pgs. Joanne Arnold has 2 pgs at a bowling alley w/ Art Linkletter and Harold Lloyd! Lynn O'Neill, Pat Hall, Billie Nelson, Roz Wood, Pat Hilton and Virginia Busch each have 2 pgs, Mara Corday and Barbara Yung each have a pg plus loads of other popular models. Bright & glossy, a few minor stresses, TINY chip off bottom right corner and top of spine on BC - VG+
Read More...
---