0 items in the shopping cart
---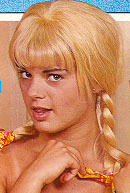 Eve Bowers-p
Early 70s model who often appeared in a blond wig w/ long braids or pigtails (very similar style to Trippi Skepington but different color hair).
Appeared under a variety of names but Eve Bowers is from Modern Man 1/70 w/ FC and CF feature. This particular feature has photos of her as both a brunette and w/ the blond braids. However, Modern Man Special #60 lists her as Alice Adams. That name was also used in PIX 11/71.
But just to keep things interesting PIX 10/73 w/ FC & pictorial has her as Marlene Blair, and that ID is also used in Tiger #28.

We're not done yet. She also appears in FOLLIES 2/72 as 'Sheila Farmer' as a blonde but no braids and is the Covergirl w/ 6 pgs for Man's Pleasure 8/77 as 'Sherri'.
She is also known as Marlene Wooden (please see that name for additional information and listings), Marlene Blair and Marlene Stively (Stivily)
There is also another model named Doris Christianson from the same time frame who looks very similar but has no braids. Can't be sure it's the same girl so I have listed her appearances separately under Doris Christianson.
---
---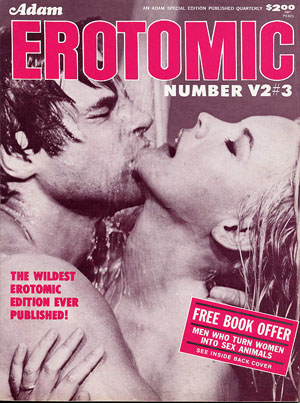 Product ID: adam-erot-v2.3c
Big squarebound edition contains an unknown issue of ADAM (probably 5/74) plus "The GIRLS" 1974 wall calendar and KNIGHT v10 #4 (4/74) all bound together minus the original covers of the magazines. Bright & glossy, lightly read - FINE

ADAM 5/74 - Andrea Bregar has BC + 6 pgs inc CF, Tina Barham & Linda each have 6 pgs. Marlene (NOT the same girl as 3/74) has 5 pgs - this is actually Eve Bowers - Covergirl & CF of Modern Man 1/70 and Covergirl of Man's Pleasure 12/71 & 9/77 and also Pix 10/73 - in a blonde wig w/ braids (looks kind of like Trippi Skepington). Plus a 6 pg movie review of 'Frankie & Johnnie' and part 2 of a continuing series on the brothels of Nevada. This chapter focuses on brothels near Vegas and between Vegas and Reno.


The GIRLS 1974 wall calendar consists of 12 full page humorous illustratons.


KNIGHT 4/74 - Popular model Hildy (Hilde) Alexandra has 6 pgs. Birgitta Lundgren has 6 pgs, a stripper named Delilah has 6 pgs and Tanya Lai (billed as Hawaiian) has 6 pgs - looks like a slim version of Maya Singh but isn't. Movie reviews of 'The Impersonator and 'Little Miss Innocence' w/ Sandy Dempsey. 'Superchicks' article has full pg pic of Linda Lovelace.
Read More...
---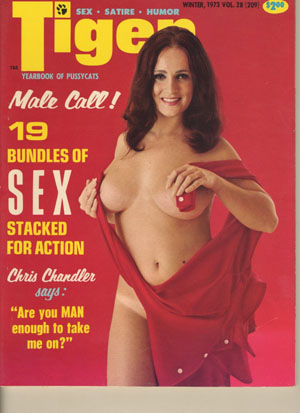 Product ID: tigr.28c
Winter, 1973 issue is Loaded with your favorite models under bogus names - 20 in all!!. Chris Chandler (aka Shirley Grinnell) has very nice FC + 7 big pgs inc foldout CF on heavy stock. Uschi Digard has 4 pgs and Rene Bond, Denise Taylor (aka Nancy Beldner), Lois Mitchell, Angel Cash and Eve Bowers each have 4 pgs solo. Danillo Fairbanks has 4 pgs as 'Stephanie Norton' and may have 4 more as 'Terri Stevens'. Lightly read, sharp, glossy Fine
Read More...
---