0 items in the shopping cart
---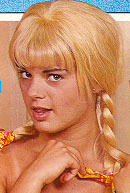 Eve Bowers-p
Early 70s model who often appeared in a blond wig w/ long braids or pigtails (very similar style to Trippi Skippington but different color hair).
Appeared under a variety of names but Eve Bowers is from Modern Man 1/70 w/ FC and CF feature. This particular feature has photos of her as both a brunette and w/ the blond braids. However, Modern Man Special #60 lists her as Alice Adams. That name was also used in PIX 11/71.
But just to keep things interesting PIX 10/73 w/ FC & pictorial has her as Marlene Blair, and that ID is also used in Tiger #28.
We're not done yet. She also appears in FOLLIES 2/72 as 'Sheila Farmer' as a blonde but no braids and is the Covergirl w/ 6 pgs for Man's Pleasure 8/77 as 'Sherri'.
There is also another model named Doris Christianson from the same time frame who looks very similar but has no braids. Can't be sure it's the same girl so I have listed her appearances separately under Doris Christianson.
---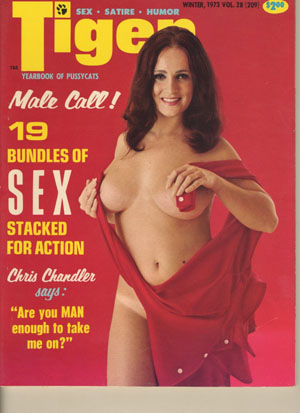 Product ID: tigr.28c
Winter, 1973 issue is Loaded with your favorite models under bogus names - 20 in all!!. Chris Chandler (aka Shirley Grinnell) has very nice FC + 7 big pgs inc foldout CF on heavy stock. Uschi Digard has 4 pgs and Rene Bond, Denise Taylor, Lois Mitchell, Angel Cash and Eve Bowers each have 4 pgs solo. Danillo Fairbanks has 4 pgs as 'Stephanie Norton' and may have 4 more as 'Terri Stevens'. Lightly read, sharp, glossy Fine
Read More...
---