0 items in the shopping cart
---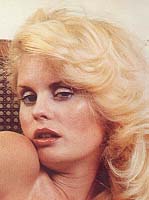 Marilyn Hammond-p
Extrememly popular blond model/porn star from the early 80s who appeared in dozens of mags inc numerous PN slicks. Hair is usually shoulder length or slightly longer, swept to one side and wavy. Was a frequent Covergirl/CF and you'll recognize her instantly.
The name Marilyn Hammond is from BUSTS+ v2 #2 which says "Introducing Marilyn Hammond" on FC. This is the ONLY appellation I have found that is even close to a real name. Most apps are under a single name only or anonymously.
Other aliases include Blondie, Gabrielle, Hailey Blue and Marilyn Peterson (which might be her real name). She also appeared in the 'Pretty Girl' film series as 'Nikki'.
The entire 56 pg issue of BUSTS+ v2 #2 is Marilyn. Other Front Covers include ELITE 6/81, ESCAPADE 9/80, HARVEY 10/85, KNAVE 3/80 (w/ 5 pgs inc CF) & STAG 2/81. Other PN apps include KINGSIZE v13 #4 w/ 8 pgs as 'Marilyn', LEGS, BOOBS & LINGERIE v7 #1 w/ 8 pgs as 'Eileen' and T&T v1 #6 w/ 6 pgs. She was also part of a 2-girl set (Jennifer & Samantha) in a swimming pool that appeared in no less than 5 different SWANK specials.
---
---
---
---
---
---
---
---
---
---
---
---
---
---
---
---
---
---
---
---
---
---
---
---
---
---
---