0 items in the shopping cart
---
Bubbles Darlene
---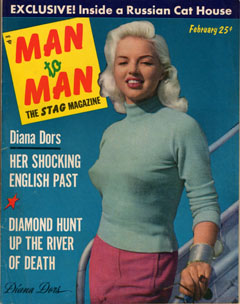 Product ID: mama1957-02d
v7 #4 - Mag is printed on newsprint type paper, squarebound w/ glued spine. Outstanding close-up FC of Diana Dors in light blue sweater + 4 pgs of pics. Bubbles Darlene has 2 pgs and Black model Olivia Domingo also has 2 pgs. Storeis about diamond prospecting in French Guiana, boxer Larry Boardman, the fad of 'Dipsy' driving, confessions of a drug addict and more. A few light creases at bottom but FC is very bright & glossy - VG+
Read More...
---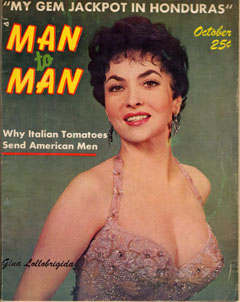 Product ID: mama1957-10e
v8 #2 - Mag is printed on newsprint type paper, squarebound w/ glued spine. Gorgeous, extreme close-up of Gina Lollabrigida FC. Bubbles Darlene has 3 pgs, Jeanne Whitney has 2 pgs plus a 4 pg feature on Italian women w/ pics of Sophia Loren, 'Lollo', Silvana Mangano and a full pg pic of Rosalinda Neri. Articles about prospecting for opals in Honduras, Israeli border terror, horror in the Jap navy and more. Very light edge wear, strong VG/VG+ - tough issue to find.
Read More...
---
Gina Lollabrigida Gorgeous Close-up FC. Betty Brosmer IFC Pin-up. Also 5 pgs. of Italian movie queens and Bubbles Darlene has 4 pgs. Featue articles on skin diving, Civil war rifles, LeMans and cattle rustling. VG+ copy is very sharp. VG copy has pgs out but Gina OK
Read More...
---