0 items in the shopping cart
---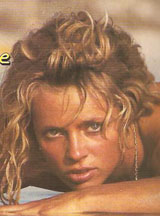 Helle Kjaer-p
Blonde Danish beauty was a Page 3 girl in the late 70s and early 80s. Was Covergirl & CF of MAYFAIR v15 #1 and CF of v16 #7, with yet a 3rd app in v19 #10. Had a major modelling carreer in Europe including scores of mag covers, album covers, paperback book covers, calendars, car & bike mags and much more.
Appeared in PARTNER 8/80 - billed as an international fashion model from Denmark. Had previously appeared in US Penthouse 8/79 (anonymously in a 2-girl pctorial) & 2/80 as Kathi Janson.
Was also featured as Covergirl and CF in OUI 10/83 and had a pictorial in PUB 10/83 - both times billed as a distant cousin of Britt Ekland.
---
---
---
---
---
---
---
---
---
---
---
---
---
---
---
---
---
---
---
---
---
---
---
---
---
---
---
---
---
---
---
---
---