0 items in the shopping cart
---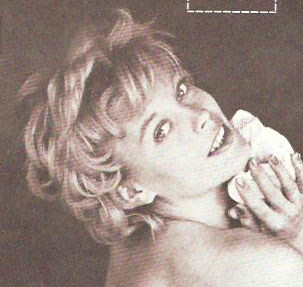 Helle Wingsoe-p
Cute blonde model from the early 60s and usually billed as Scandinavian - Danish, Norwegian, etc. (in ESCAPADE 4/61 she is billed as a former Miss Copenhagen) Looks an awful lot like another model from the exact time frame who went by the name Annette Casir (sometimes spelled Cassir) - same girl???
According to some sources they ARE the same girl, but according to others they are not. I tend to think they are the same for the following reasons. Annette has a 7 pg feature w/ CF in TOPPER 7/61 - the photographer was Bill Hamilton. In one photo on pg 37 she is wearing a blue & white bikini. Another pic from this shoot was used as the FC of ACE 6/61 (also credited to Bill Hamilton) but the model is identified on pg 35 as Helle Wingsoe. Pics of Helle Wingsoe from ESCAPADE 4/61 & GENTLEMAN ANNUAL for 1963 look an awful lot like Annette as well and all are by Bill Hamilton. Unless Mr Hamilton was able to find 2 models who look so much alike that you can't tell the difference and photograph both of them in the same bikini within a matter of a few months it would seem they are the same girl - after all that's quite a string of coincidences.
Just make things even more complicated I have found a reference to Annette appearing under the name Jody Fleming. And in a really strange twist they are both in the first issue of TOPPER from 7/61 and are hard to tell apart - one of them is on the Cover.
Are Annette, Helle and Jody all one and the same girl?? Anybody know for sure!
Former Miss Copenhagen, Denmark. Appeared in numerous mags during the early 60s including the FCs of ESCAPADE 6/61 & 2/62
---
---
Product ID: escp1961-04d
v6 #3 - Features Helle Wingsoe (Miss Copenhagen) on inside FC + 4 pgs. Carol Lynn has 4 pgs and Paulette Nelson has 3 pgs on a trampoline. Fiction by Connie Sellers 'Flash Flood', a 1 pg column by Jack Kerouac, Cliff diving in Mexico and a visit to Rice Univ.
Read More...
---