0 items in the shopping cart
---
Alexis De Vell
Popular model/porn star from the early - mid 90s.
---
---
Product ID: bustout1994-07d
Pandora Peaks has FC + 7 pgs and Tiffany Towers has 8 pgs inc CF. Danni Ashe and Marlena The Body each have 7 pgs, Dominique Simone, Shayne Fawntanna, Bethany Bustin, Brejene and Daphne each have 6 pgs. Lissa Lynn has 4 pgs and Alexis de Velle has 3 pgs. Very bright & glossy, a few minor stresses and a small clean crease on bottom left corner of BC - VG++
Read More...
---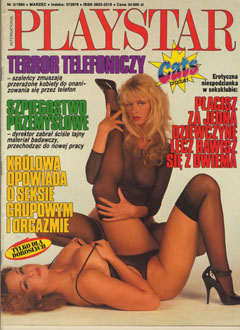 Product ID: pold-play1994-03d
Polish mag is 68 pgs. Covergirls Linda & Laila also have 5 pgs. Gaynor Bell has 4 pgs, Claudia Schiffer has 3 pgs of topless pics, Alexis Devall has 3 pgs, Maria Whittaker BC only. Articles about Cuba, The Medellin Mafia, Ilona Staller (aka Cicciolina) and lots more. Few light streses, bright & glossy - VG++
Read More...
---