0 items in the shopping cart
---
Brenda de Nault
Busty dark haired model from the late 50s - early 60s. Was Covergirl and CF of 'Touch Of Venus' v1 #2 in 1962 and had 16 pgs inc CF in 40+ from Selbee in 1963.
Perhaps her greatest claim to fame is that she is the mother of Patricia and Rosanna Arquette.

Last name has been spelled with every conceivable premutation - de Naut, Du Nue, etc.
---
---
Product ID: modvd-40+-#3
1963 - Outstanding 68 page digest size mag from Selbee & Associates. Bonnie Logan has FC + 9 pgs, Brenda de Nault has 16 pgs inc CF. Elaine Reynolds has BC + 8 pgs, Brandy Michaels has 11 pgs, Busty Brown has 3 pgs and Ann Austin has 2 pgs.

Please note that this item is a CD - NOT the magazine itself.
Read More...
---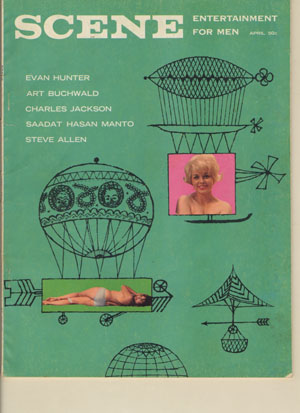 Product ID: scene1962-04e
v8 #2 features FC thumbnails of Lorraine McCloud and Brenda DeNaul (aka de Naut). Each also has 4 interior pgs. Article about Ingmar Bergman, Humor by Art Buchwald 'Tourists At Large', a 1 pg column by Steve Allen '5 Cent Questions' and a feature on the B'way hit 'How To Succeed in Business Without Really Trying'. It's been read a few times but nice VG.
Read More...
---