0 items in the shopping cart
---
Marie Lafarge
Busty brunette model with short hair from the early 80s. Has a butterfly tattoo on her belly. Was in FLING 1/81 under this name. Other appearances include ADAM CHOICE v1 #10 as 'Donna' and v3 #5 as 'Sophia'. Was also in GEM 6/80 as 'Sophia' and DAPPER 5/82 as 'Jo Young'.
---
---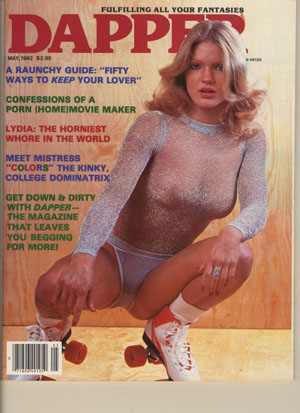 Loads of familiar faces in this one. Fia Morrow is Covergirl on roller skates. Jessica has 7 pgs inc CF (she was in 9/80 as 'Jessie' - pretty sure this is Carrie Sellars). Black model Elaine Collins has 3 pgs. A very familiar looking Jo Young has 3 pgs. Bettina has 5 pgs, Black model Camella Donnor has a full pg pic. Plus several nameless girls, a couple and a 3-some.
Read More...
---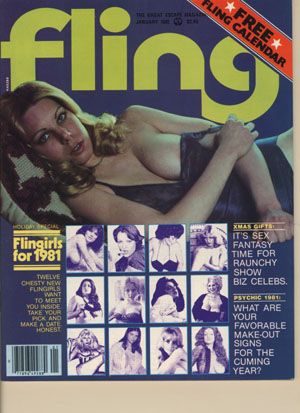 v23 #5 (Issue 110) - Cindy Stewart (aka Vicky Harris) has FC. Mary Waters has 5 exceptional pages as 'Dani Fabroso', Jennifer Eccles has 3 pgs as 'Gillian Barbera' and Carrie Lambert also has 3 pgs. Mag contains a 4 pg detachable 1981 Flingirl Calendar w/ 1 pg each Nika Movenka, Katrina Ferguson, Jenene Swenson and Marie La Farge - each of them also has a separate 4 pg feature in addition to the calendar. Plus 2 pgs each of Barbara 'Babsy' Kockritz, Denise Deland and Geri Mandel. An article about 'Agent Orange' and Spain Rodriguez has a 1 pg illo. FINE++ copy is NEW!, unread - just gorgeous! FINE copy is bright & glossy, a couple of very minor spine stresses and TINY bump at top of spine.
Read More...
---