0 items in the shopping cart
---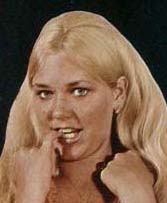 Jacqueline Morse-p
Busty Blonde model with frequent appearances in Challenge Pubs of early 70s and also PN type slicks.
Is Covergirl of CAVALCADE 12/70 as 'Jackie Morse', Centerfold of MR. 1/71 as 'Jacqueline Morse' and Covergirl/CF of MAN TO MAN 5/71 as 'Jacqueline Bray'. Also appeared in 'Cleavage 9/72 as 'Jackie' and was BC of 38-26-34 v11 #2.
Sometimes appeared with various other names such as Kathleen in Night & Day 10/70.
---
---
---
---