0 items in the shopping cart
---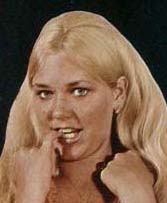 Jacqueline Morse-p
Busty Blonde model with frequent appearances in Challenge Pubs of early 70s and also PN type slicks.
Is Covergirl of CAVALCADE 12/70 as 'Jackie Morse', Centerfold of MR. 1/71 as 'Jacqueline Morse' and Covergirl/CF of MAN TO MAN 5/71 as 'Jacqueline Bray'. Also appeared in 'Cleavage 9/72 as 'Jackie' and was BC of 38-26-34 v11 #2.
Sometimes appeared with various other names such as Kathleen in Night & Day 10/70.
---
---
(1973) - Great Candy Samples FC reclining in front of fireplace. Candy also has full pg 'contact sheet' of 12 pics. Nika Movenka has full pg 'contact sheet' of 12 pics. Jacqueline Morse has great full pg color pic and full pg 'contact sheet' of 12 pics. Brat Anderson has full pg pic and Shirley Bowman has full pg pic on inside BC. Roxanne Brewer, Uschi Digard and Lois Harman all have multiple pics. Have 2 copies of this one. One is a file copy with embossed seal in upper right corner - very minor wear. The other is new, unread - FINE++
Read More...
---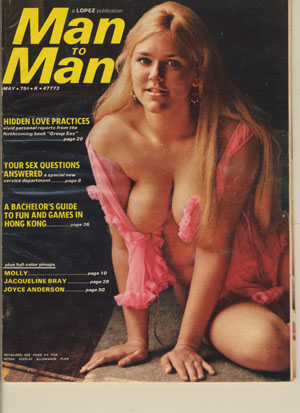 Product ID: mama1971-05d
v21 #3 - Has nice FC of busty blonde Jacqueline Bray (is Jacqueline Morse) + 7 pgs inc a 3 pg color foldout CF. Joyce Anderson has 5 pgs w/ 2 pg color foldout. Julie Ege & Molly Rabbet each have 2 pgs. 'Blue Movie' by Terry Southern and a bachelor's guide to Hong Kong. Lynne O'Neill has a column on Burlesque. Spine stresses, VG+

Read More...
---