0 items in the shopping cart
---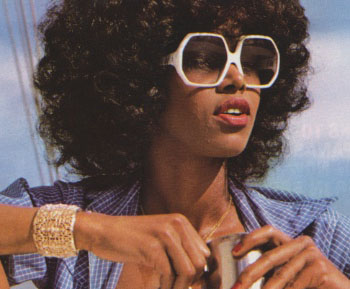 Camella Donnor-p
Black model from the late 70s and 80s probably most famous for her appearance in the James Bond movie 'Octopussy'. Mag apps include Mayfair v13 #10 and v18 #7, Club International 12/77 w/ short white hair as 'Donna' and GENT 7/83 as 'Sima'.

aka Camella Thomas
---
Product ID: clubint1977-12d
Erna has 6 pgs inc CF. Black model Camella Donnor (aka Thomas - was featured in the 007 movie 'Octopussy') has 8 pgs as 'Donna'. Eve, Barbi, Delia and Annette each have 6 pgs. An article about mens magazines - Then and Now w/ lots of pics. 'Olaf the Gang Bangor' - 2 pg color comic strip. VG+
Read More...
---
CF Morgan has 8 pgs w/ her horse. Jeanette Starion has 5 pgs as 'Chrissie'. Shauna Grant has 7 pgs w/ a guy dressed as the devil, Amber Lane has 7 pgs w/ a medieval knight, Bond Women of 'Octopussy' has 4 pgs of Joni Flynn and 2 pgs of Black model Camelia Thomas (aka Camella Donnor), Michelle Bauer (as a witch) has 8 pgs w/ another witch.
Read More...
---
Product ID: gm.0092d
This is yet another weekly, pulp type news mag with loads of great stories and pics. Great FC photos too!! Issue of 1/31/83 - Joanne Latham has topless FC wearing jockey cap and jacket. Centerfold is Anita, Black model Camella Donnor has 2 pgs as 'Grace', Clarissa and Nadia each have 2 pgs and a 2 pg feature on a tattoo convention. Small crease bottom corner - nice VG+
Read More...
---